We are honoured to be instructed to offer for sale this superb 4 bedroom dwelling house.
The house is located just 1 Km from the Village of Ardara on the Donegal Road.  The house is in a beautifully maintained private Housing Estate of six houses.
This is one of the finest houses to come on the market in recent times and is finished to a very high standard.
There are two No Outsheds at the rear of the property.
There is a gravel entrance and ample parking to the front and rear.  There are some matured trees as well as a wooden boundary fence.  The property also includes a beautiful well maintained garden with shrubs, plants and vegetables which was beautifully kept by its present owner.
PROPERTY DIMENSIONS:
DOWNSTAIRS:
Kitchen/Lvingroom:    (4.00 m x 4.3 m) + (2.9  m x 2.9 m)
Utility Room:                  2.3 m x 1.9 m
Sittingroom:                    5.2 m x 3.6 m
Bathroom:                       3.2 m x 2.7 m
Bedroom 1:                      4.4 m x 3.3 m
Bedroom 2/Office:      3.6 m x 3.3 m
UPSTAIRS:
Landing:                          4.3 m x 2.0 m
Bedroom 3:                   3.8 m x 3.0 m
En-Suite:                         2.0 m x 1.6 m    Wardrobe: 2.0 m x 1.6 m
Bedroom 4:                   4.8 m x 3.8 m
En-Suite:                         2.8 m x 1.3 m     Wardrobe: 2.8 m x 1.3 m
This property is available for viewing by contacting the Auctioneer Stephen on 087 2424590
Flooplan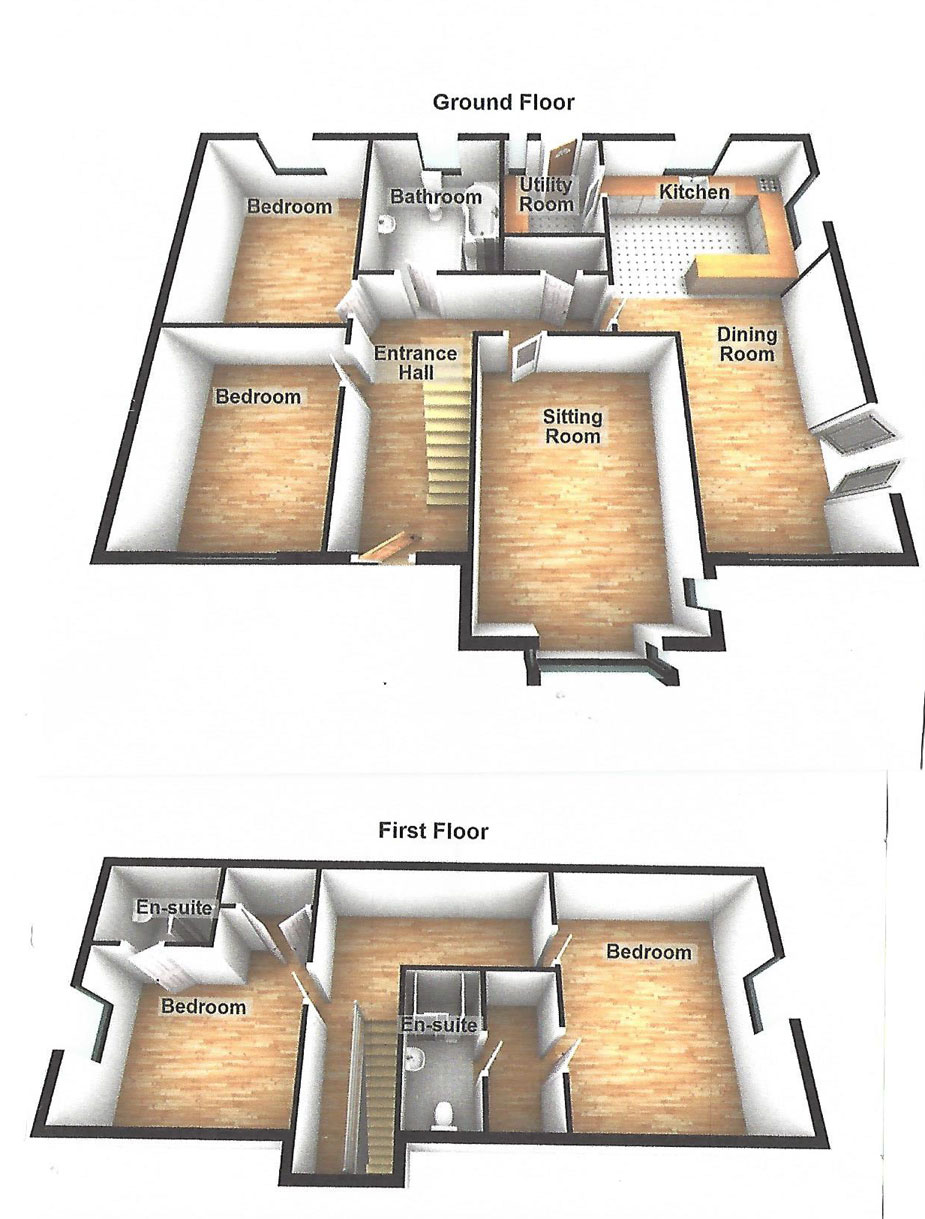 Location